AirPods Pro have been reengineered for even richer audio experiences.
Next-level Active Noise Cancellation and Adaptive Transparency reduce more external noise.
Spatial Audio takes immersion to a remarkably personal level.
Touch control now lets you adjust volume with a swipe.
And a leap in power delivers 6 hours of battery life from a single charge.
Audio performance
H2. More
immersive by
every measure.
The new Apple‑designed H2 chip is the force behind AirPods Pro and its advanced audio performance. It works in concert with a custom‑built driver and amplifier to deliver crisp, clear high notes and deep, rich bass in stunning definition — so every sound is more vivid than ever.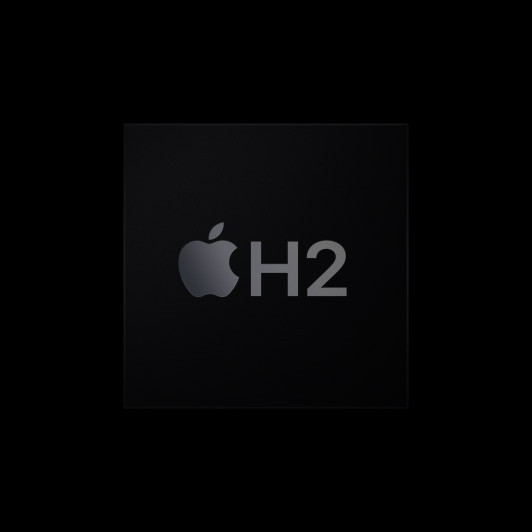 The brand-new H2 chip carries out more functions than ever, using computational algorithms to deliver even smarter noise cancellation, superior three-dimensional sound, and more efficient battery life — all at once.
The chip uses powerful new adaptation algorithms to process sound more quickly, tuning audio at the precise moment you hear it. Every detail is rendered for your specific ear shape, immersing you in higher‑fidelity sound.
A redesigned inward-facing microphone works with voice enhancement algorithms to better recognize and articulate your voice, so it sounds more natural when you're on phone and video calls.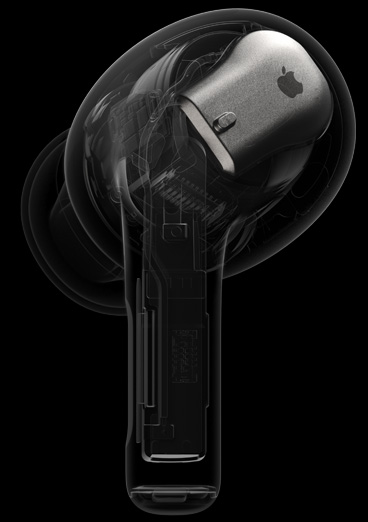 A custom-built driver and amplifier work with the H2 chip to provide lower distortion during playback, so you'll hear deeper bass and crisper highs — across all volume levels.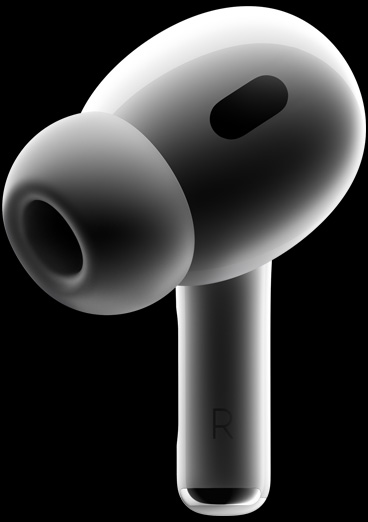 Noise cancellation
A marvel of modern silence.
Featuring up to two times more noise cancellation than their predecessor, the H2-powered AirPods Pro are built to let you listen in peace. With control over what you hear — and don't hear — you'll be immersed in songs and podcasts like never before.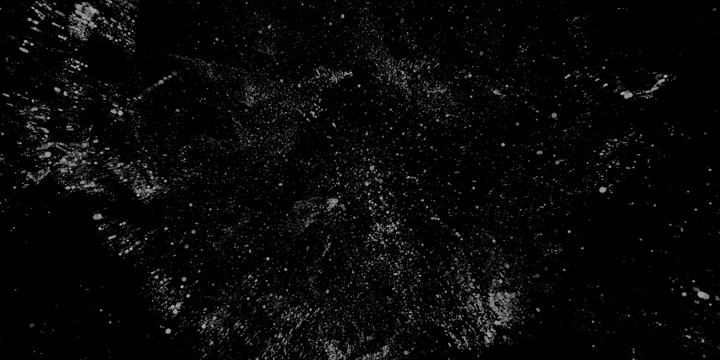 Up to
2x
more Active
Noise Cancellation.1
A new driver and improved acoustic algorithms help Active Noise Cancellation reduce more unwanted noise, so nothing interrupts listening during your commute and when you need to focus.
Noise-cancelling microphones and a rear vent are optimally placed to quickly detect sound coming in, working together to counter noise before it reaches your ear.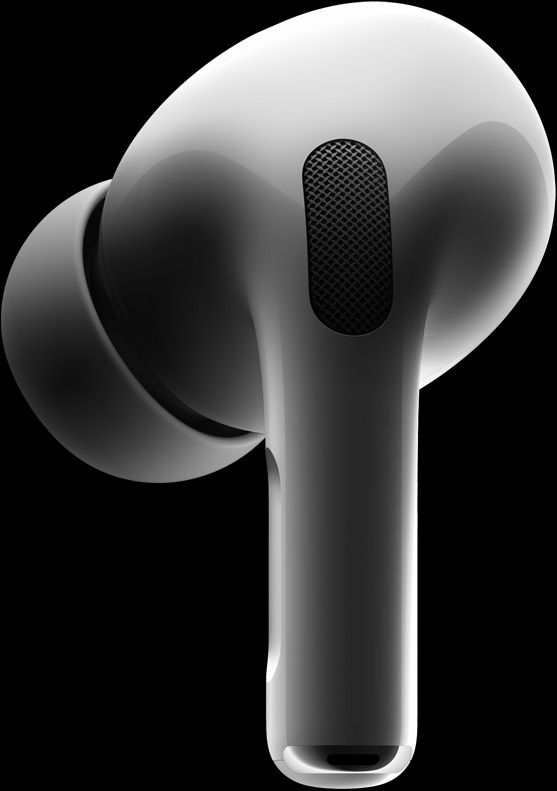 Now with an extra-small size, four pairs of silicone tips are included to fit a wider range of ears. The tips create an acoustic seal that closes in the sound — and secure AirPods Pro in place.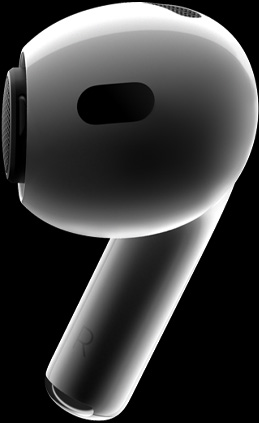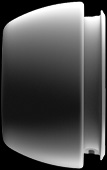 Adaptive Transparency harnesses the power of H2 to minimize the intensity of loud noises like sirens or power tools — so you can comfortably hear the world around you.
Reduces noise at 48,000 times per second.
A higher level of control.
Touch control lets you easily manage playback functions from the stem. Swipe up or down to adjust volume, press to play and pause music or answer and end calls, or hold to switch between Active Noise Cancellation and Adaptive Transparency.
Personalized listening
Sound.
Tuned to you.
AirPods Pro take the listening experience to a new level of individuality. Personalized Spatial Audio with dynamic head tracking works with all your devices to immerse you deeper in all-around-you sound.2 And Adaptive EQ accounts for the fit of AirPods Pro, so you hear every frequency just as it was intended.
To play sound that better suits your unique ear shape, Personalized Spatial Audio works with the TrueDepth camera on your iPhone to create a custom profile based on your head's geometry. The profile syncs across your devices — delivering phenomenal sound every way you listen.2
Dynamic head tracking now brings three‑dimensional audio to Group FaceTime calls, so conversations feel like you're in the same room with your friends and family.
Adaptive EQ tunes music to your ears in real time, based on the fit of AirPods Pro. Inward-facing microphones measure what you're hearing, then adjust the low to high frequencies of a song — so you get consistently detailed playback, every time.
Case and battery life
A case of unmistakable
power.
The new MagSafe Charging Case is loaded with features that make listening on the move especially convenient. An updated design offers more ways to keep track of the case, and extended battery life lets you listen, watch, and talk longer between charges. You won't find a more capable case.
Recharge the MagSafe Charging Case with an Apple Watch charger or MagSafe charger. You can also use the Lightning connector or a Qi‑certified charger.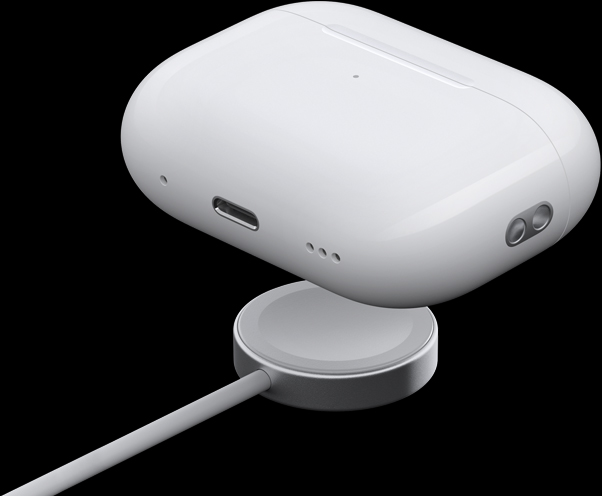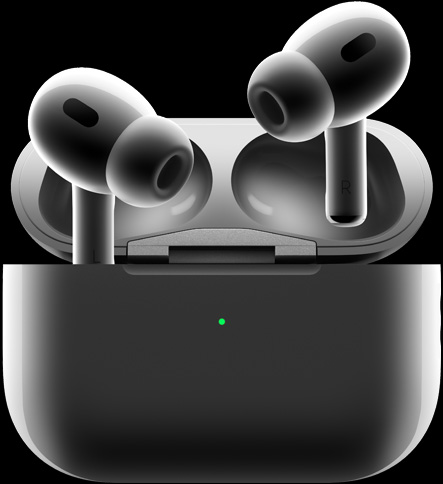 A new U1 chip enables Find My with Precision Finding for your case, so you can exactly locate it. You can also use Find My with proximity view if you lose track of your AirPods Pro.5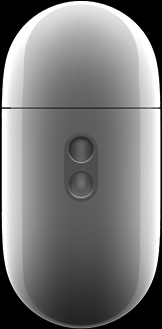 A lanyard loop allows you to attach the case to a backpack or handbag, so immersive sound is always within reach.6
The case's built‑in speaker plays sound to help you easily locate it, and all-new tones alert you when the battery is low or pairing is complete.
Both AirPods Pro and the MagSafe Charging Case are IPX4 sweat and water resistant.7
Magical experience
Simplicity on a grand scale.
From instant setup to Siri commands, AirPods Pro hold all the qualities that make the AirPods family so magical. And new features give you the ability to move through more tasks with unprecedented ease.
Easy, magical setup Place AirPods Pro near your iPhone and tap Connect to seamlessly pair with every device in your iCloud account.8 And if your case is custom engraved, the same engraving appears on your device's screen — for an even more personal experience.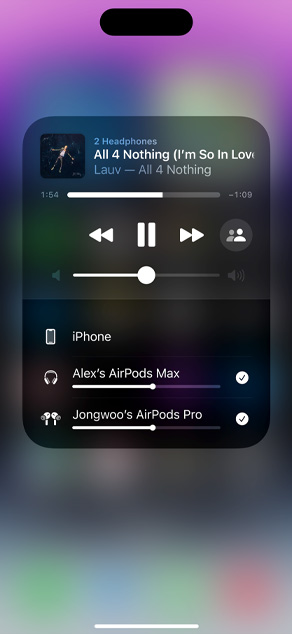 Audio Sharing Easily share a song or show between any two sets of AirPods. Simply bring AirPods near the iPhone, iPad, or Apple TV you're listening to and connect instantly.9